To kick off the new year we've rounded up the 5 biggest ranches for sale in Idaho by acreage (per Land and Farm as of December 2020).  Here are the the five biggest ranches for sale in Idaho as of December 2020:
McCall Red Ridge Ranch in Adams & Valley County, ID, 31,122 ± Acres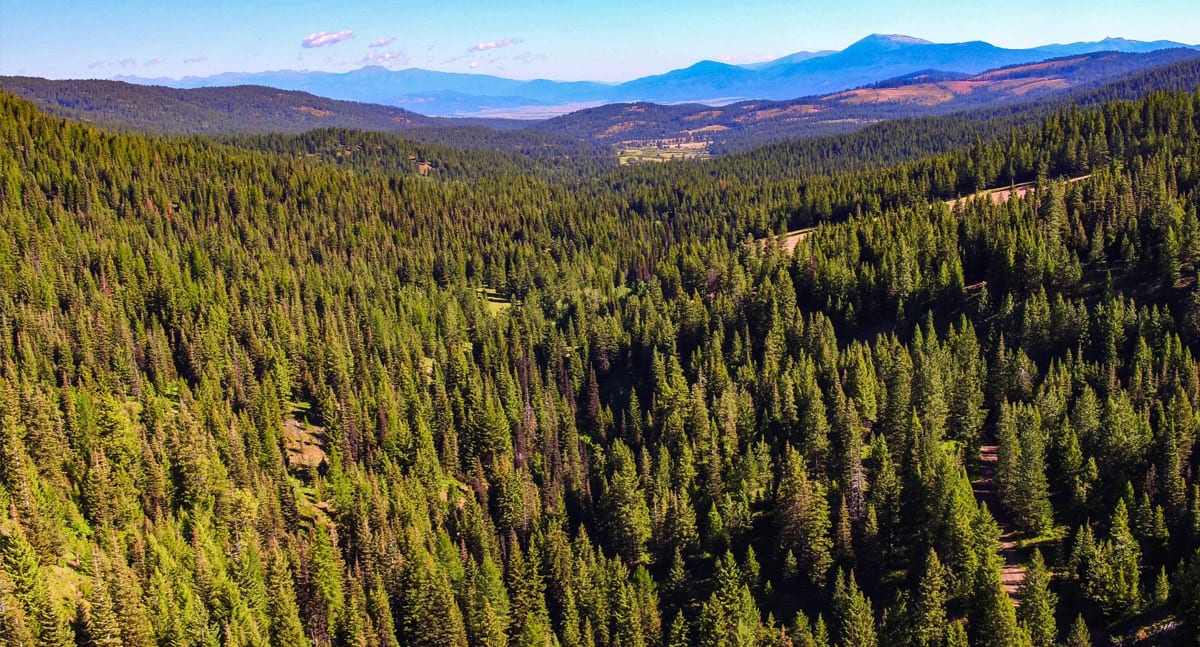 At over 30,000 contiguous deeded acres, McCall Red Ridge Ranch is a scenic mountain timber ranch nestled in the stunning Payette National Forest. Overlooking and adjacent to the major tourist town of McCall, Idaho, the ranch has uniquely positioned mountain ranges; making it one of the very few ranches located on a geographic divide that produces streams flowing both north and south. Numerous ridges stretch through the property including the famous Red Ridge, the ranch's namesake. A unique and rare first time offering, this recreational and productive ranch is full of water, timber, big game, and endless division and subdivision possibilities. View this ranch listing.
Cattle Ranch in Twin Falls County, ID, 10,500 acres
10500 +- deeded acres plus BLM and State lands. Working cattle ranch with some of the country's best blue ribbon trout fishing and miles of hunting for resident mule deer, antelope, Rocky Mountain Elk and upland game birds. Beautiful ranch home, nice guest home and a caretaker-manager home. Ranch features outstanding horse barn, equipment shop and an extensive set of metal corrals. The ranch offers every desirable feature of a trophy property including irrigated meadows, senior water rights, fishing, and hunting all surrounded by miles of BLM and state lands. View this ranch listing.

Williams Farm & Ranch in Twin Falls County, ID, 7,984 Acres
The W T Williams Ranch and farming operation dates back as one of the oldest and well established in the entire Magic Valley. When you read the history books about the Magic Valley it is not uncommon to read about the early beginnings and happenings on this Ranch. A five generation operation having been established by W T Williams in the early 1900's. W.T. (Bill) Williams was well known for his focus on quality land and the value of water rights for that land. A very rare offering of real property and grazing rights.
The deeded ground stretches 16 miles south and is bordered by BLM and Forest Service grazing allotments along a substantial portion of the Williams holdings. View this ranch listing.

West Fork Fish Creek Ranch in Blaine County, ID, 5,840 Acres
Located in the foothills of the Pioneer Mountains 45 miles east of the airport in Hailey, West Fork Fish Creek Ranch is an expansive grazing and wildlife property that is easily accessible to the amenities of Sun Valley yet instills a sense of being a world away. The ranch features 5,840 deeded acres with diverse foothills and canyons, two small creeks, numerous springs, sub-irrigated meadows, aspen and chokecherry stands, wildflowers splashed across the hills in spring, and plentiful wildlife, including elk, mule deer, antelope, upland game birds, and numerous non-game species. Given its size, the ranch qualifies for two landowner appreciation tags for controlled big game hunts in coveted Unit 49.
The property adjoins other private ranch holdings and lands managed by the Bureau of Land Management (BLM) and State of Idaho. The ranch offers excellent grazing resources and, together with an associated sole permittee BLM grazing permit and State of Idaho grazing lease, is managed for spring and summer livestock use. View this ranch listing.
Kennally Creek Valley Ranch in Valley County, ID, 5,722 ± Acres
Kennally Creek Valley Ranch is being offered for the first time for sale as 5,722 ± acres. Rarely are there opportunities to own an entire major trout stream valley including both valley sides mountain ranges and within minutes of a major resort town. This is a great opportunity to own a ranch that is geographically positioned with spectacular mountain views and numerous creeks throughout the property. Lush creek valley meadows to the top of timbered mountain peaks all just minutes from a major resort town offering the finest of accommodations. View this ranch listing.

---
Interested in your own piece of Idaho? Wilks Ranch Brokers, LLC specializes in the offering of quality ranches, mountain timberland, agricultural, hunting, and recreational lands across the United States. View properties for sale in Idaho.